&nbsp&nbsp&nbsp&nbsp HOME&nbsp&nbsp&nbsp&nbsp&nbsp&nbsp&nbsp&nbsp BAIKAL ICE&nbsp&nbsp&nbsp&nbsp&nbsp&nbsp&nbsp&nbsp FEEDBACKS&nbsp&nbsp&nbsp&nbsp&nbsp&nbsp&nbsp&nbsp FILMS&nbsp&nbsp&nbsp&nbsp&nbsp&nbsp&nbsp&nbsp WINTER&nbsp&nbsp&nbsp&nbsp&nbsp&nbsp&nbsp&nbsp &nbsp&nbsp&nbsp&nbsp&nbsp&nbsp&nbsp&nbsp
BAIKAL WILD ICE GRAND MARATHON, 210 KM

---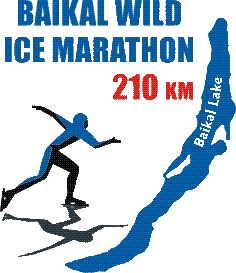 Baikal-Complex invites to the annual Baikal Nordic Skating Marathon.
8 Days / 7 Nights
Best since 10th of February till middle March. Moderate.

Description: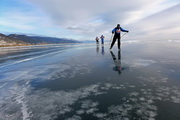 Want to skate the biggest skating rink in the world ? Imagine black ice extending far into the horizon, as far as you can see.Not all ice is created equal - sometimes flawlessly smooth, sometimes coarse, often full of cracks and bubbles rigidly frozen under the surface. The woody hills of Pribaikalskiy ridge run along the shoreline, interspersed with sharp capes, precipitous cliffs and small sandy beaches. Due to the enormous volume of the lake, Baikal only starts to freezes in late January but in the space of just a few days, the ice can grow thick enough to support the weight of a man. And then, for one and a half months Baikal turns to a Nordic skating paradise. Early February is time when the ice is mirror-smooth and one can hardly understand if the huge immensity is hard crystal or it is very still and quiet water. After mid March the snow will partly cover the surface, wind will make it hard and bumpy, cracks in the ice will appear.

Wild Ice Grand Marathon is the longest, most beautiful and challenging Nordic skates tour at Baikal. Groups are fully escorted by safety hovercraft.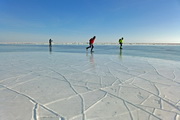 This several day tour is one of the most fascinating and extreme trips at Baikal. It requires good skating skills, winter travel experience and hunger for adventure. The tour starts in the settlement of Sakhurta and runs down south, passes along Ust Anga, Bolshaya Buguldeyka, Peschanaya Bay, Bolshoe Goloustnoe to Bolshie Koty and finally ends up in Listvyanka village. Overnights in guesthouses or small private hotels. En-suite rooms, full board, expert guides and safety hovercraft.
NOTE:Distance and locations are flexible and may be changed due to the weather conditions and group skills.
Itinerary:
Day 1: Arrival to Irkutsk, transfer to Sakhurta near Olkhon island, 4 hours. Check in guest house, orientation skating, f/b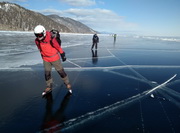 Day 2:Day skating 40 km along the Olkhon Island. Overnight in guest house. 30-45 km Day 3:Skate to Ust - Anga setlement, overnight in guest house. 40 km
Day 4:Skate to Buguldeika town, overnight in lodge. 45km
Day 5:Skate to Bolshoe Goloustnoe village. 85 km. Accommodation in guest house or chalet. Day 6:Skate to Listvyanka 45 km.
Day 7:Sightseeing in Listvyanka, visit to Lake Baikal Museum. TRSF to Irkutsk. Short city tour, accommodation in a hotel, 1 Nt, twin, b/b
Day 8:Departure from Irkutsk

Siberian Extreme Race on Lake Baikal. February 2014, distance 205 km